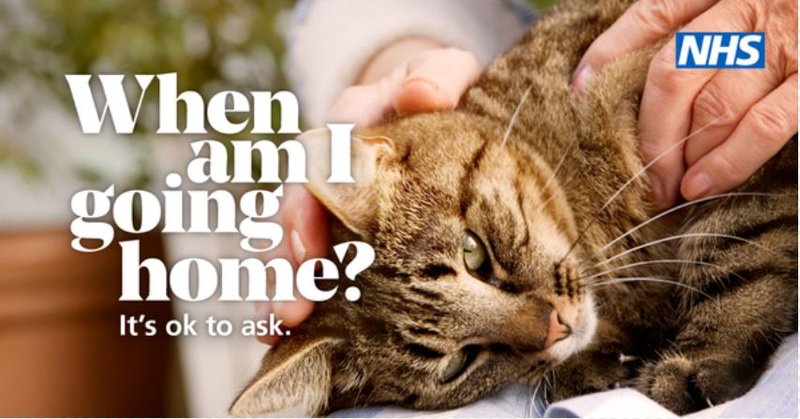 This national campaign, from NHS England and NHS Improvement, is part of the Reducing Length of Stay programme, which aims to reduce the time those who've been in hospital longer than 3 weeks stay as hospital patients.
It focuses on 2 audiences (older patients, and their families and carers) and is centred around 4 questions for patients to ask about their care and recovery plan, including asking when they can leave hospital.
Campaign details
Related website
NHS England: Reducing Length of Stay programme
Target audience: Adults, People with long-term conditions
Topics: NHS
Campaign start date: February 2022
Campaign end date: Ongoing
Overview

We know that it's much better for a patient's physical and mental wellbeing to leave hospital as soon as they are medically ready to do so.

That's why we're doing everything we can to reduce prolonged hospital stays and help our patients continue their recovery at home or, for those that can't go straight home, within a care location most suited to their needs.

Launched in February 2022 the 'When am I going home?' campaign is designed to empower and encourage patients and their families to feel confident in asking questions about their care and recovery beyond the hospital setting.

We recognise it can sometimes be hard for patients to ask questions about where their care is up to, especially if they're unsure about their illness or they can see staff are busy; but encouraging them to ask key questions can help them feel more in control of their recovery.

The campaign is centred around 4 questions that patients can ask so they understand everything they need to know about their care and recovery plan:

What is wrong with me?
What is going to happen next?
What can I do to help myself get better?
When am I likely to go home?

It focuses on 2 key audiences; older patients who are admitted to hospital, and their families/carers.
About the resources available

A range of resources have been created to make it as easy as possible for hospital staff, communications teams and volunteers to help spread the word to patients, as well as their families and carers.

Resources include:

posters
trayliners
leaflets (for patients and carers) depicting images of home comforts which hospital staff can display around hospitals
a digital toolkit, which contains links to download digital assets, including a screen saver and social media posts
Published: 28 October 2022