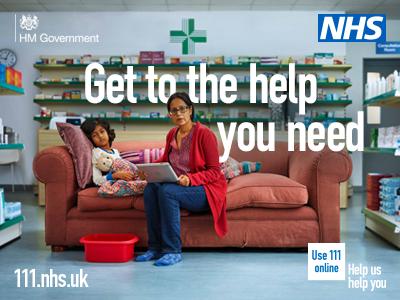 Activity will run on TV, video on demand, online video, PR, social media, radio, out of home (OOH) and search. TV activity begins on 19 December, while other media, including search and social, begin in November. See media summary sheet for details. The campaign will also be supported by multi-cultural marketing and activity aimed at people with disabilities.
Campaign details
Target audience: Adults, Students and teachers, Young adults
Topics: NHS 111
Campaign start date: 24 November 2022
Campaign end date: 31 March 2023
Target audience

The target audience for the campaign is all adults 16+ in England.

Upweighted groups include parents of children aged 5-12, and young adults (20-29) as they are more likely to be open to using digital services.

The campaign promotes the service's ease of use and how it can help people get assessed and directed to the right place for them, as quickly as possible.
Assets will include:

A3 and A4 posters
TV advertisement
Cut downs of the TV advertisement for social media
Web banners
Out of home assets (digital and static)
Email signatures
Radio ad
Digital screens
Pop up banner artwork
A5 leaflets

Please use these materials on your channels to help promote the NHS 111 online service.
Published: 15 December 2022